Month:
July 2015
The Generative Manifesto
Ade Ward and Alex McLean (Slub)
Presented at the Institute for Contemporary Arts, 23rd August 2000
Attention to detail – that only hand made generative music can allow (code allows you to go deeper into creative structures)
Realtime output and compositional control – we hate to wait (it is inconceivable to expect non-realtime systems to exhibit signs of life)
Construct and explore new sonic environments with echoes from our own. (art reflects human narrative, code reflects human activity)
Open process, open minds – we have nothing to hide (code is unambiguous, it can never hide behind obscurity. We seek to abolish obscurity in the arts)
Only use software applications written by ourselves – software dictates output, we dictate software (authorship cannot be granted to those who have not authored!)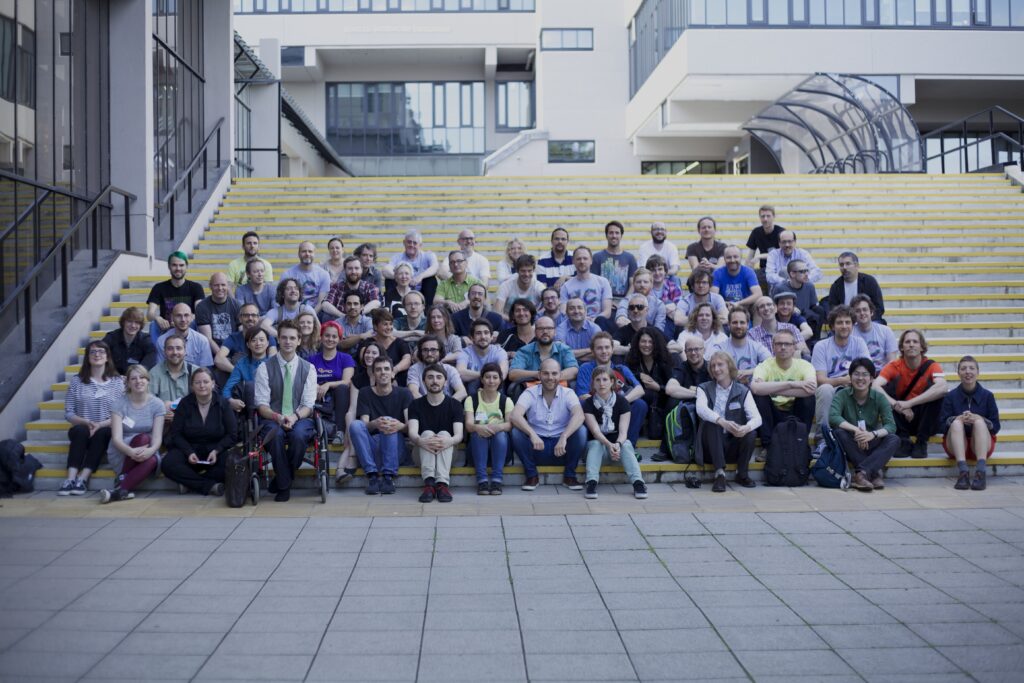 ICLC 2015 is now behind us and was awesome. It was great to have so many enthusiastic people come together, and to witness how far things have come over the past 15-year life of the live coding community. It was also great to work with a great team, Thor Magnusson (co-chair), Kia Ng (scientific chair) and Shelly Knotts (performance chair). Then due to illness Kia was very sadly unable to take part in the latter part of the organisation, but Joanne Armitage stepped up to take on a large part of the local organisation as chair of Workshops and special sessions, I don't know how we'd have coped otherwise. Ash Sagar also helped with production of off-campus events (i.e. the Algoraves), and helped keep things smooth during the day too.. Jon Harrison did a fantastic job capturing everything on film too, we'll be uploading the fruits of that too.
Beyond thanking all these people (and there are a great deal more volunteers and collaborators to thank) I've been struggling to find words to summarise the conference. Part of the problem is as chair I missed a fair amount of it, while working behind the scenes. We've asked the attendees to share conference reports though, so hopefully I will find out what happened this way! It felt really great to get so much of the community together though, and discover that live coding is as interesting and interdisciplinary as ever, while still very much having a playful, fun spirit at its heart. For 2016, we've passed the baton on to David Ogborn, who'll be hosting it in some incredible looking venues in Hamilton, can't wait…
Thanks so much for coming everyone! An inaugural event will always be a leap of faith for everyone concerned, and we landed it together.
I've just published the ICLC proceedings, a learning process, trying doing things a little differently, so thought I'd share. I'm by no means an expert on e-publishing, feedback is very much welcome in the comments.
Easychair
Nothing out of the ordinary for peer review — we used easychair. This is standard in computer science but I probably wouldn't choose it again, particularly after they made features premium while I was using them, without warning, and had very little communication about their downtime. I've been happy with self-hosted OCS in the past.
Templates
I blogged before about how I wanted to achieve conference template utopia, by offering a paper template in markdown. This went surprisingly well, I made simple templates in both word and markdown formats, and about half the authors chose markdown. I had very few people reporting problems with the template, and with a little bit of wrangling I was able to use pandoc to generate nice PDFs via xelatex, and reasonable HTML. It would be good to push this further when academic markdown tools are more developed, but for now I think it'd be unfair to expect everyone to use pandoc, a commandline tool. I don't see a reason to continue inflicting LaTeX on anyone, though.
Publishing
Many conferences have eye-wateringly high registration fees, and it can be hard to understand why when performers have to pay them as well. I think part of the reason for this is publication costs; if you want your conference proceedings to be published by a respected publisher, you have to pay them (and then readers may well have to pay to read them as well). We decided not to go this route, at least for the first edition. Instead we decided to just share the proceedings as PDF, getting all the authors to provide their papers under a permissive Creative Commons Attribution license.
It was clear from asking authors that they would particularly value having an ISBN for the proceedings. You can register as a publisher in order to allocate ISBNs yourself, although in the UK this requires buying them in batches of 10 for some reason. After asking around the University of Leeds it turned out that someone in the Secretariat could allocate an ISBN for me straightforwardly, by filling out a simple form. I specified the format as e-book, and price as £0, which doesn't seem to have been a problem.
The ISBN satisfies the beancounters in terms of making the proceedings an official publication in some way, but actually isn't very useful beyond that, as far as I can tell (correct me if I'm wrong). You could use it to locate my physical address and ask for a PDF, but you'd be better off searching for the name of the conference in google.
DOIs are perhaps more useful as a way of linking to archival documents long term, even if they don't carry the gravitas of an ISBN. I found the free Zenodo service, which archives research data for you (on CERN's servers), providing DOIs in the process. I put all the papers in their web interface one-by-one, a bit tedious, but worth it I think. If you do the same, then it's worth filling out both the 'conference' and 'book' sections, you then get decent BibTeX export records etc via the site. I also made a Zenodo 'community' for the conference, so you can see the papers collected together there.
Zenodo are also happy for videos to be uploaded, that'd be a nice way to make the peer reviewed performances in the conference citeable. We'll see.
Aside from a small matter of very many spreadsheets, that's it! Open and accessible  conference proceedings.  Thoughts welcome!
(We will go a more formal route as well by the way, following on from the conference, Thor is leading on a special issue of Performance Arts and Digital Media.)