Interview in The Wire magazine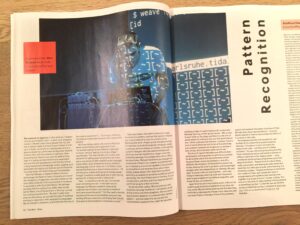 I had an enjoyable, far-reaching chat with Emily Bick and the results are in the March issue of The Wire magazine. Emily has managed to fit in quite a lot about Algorave, Slub, Canute, Tidal, Weaving Codes and Susanne Palzer. The last time live coding was featured was March 2008, in a review of the first (and so far, last) TOPLAP CD including a track from Slub:
A prehistory of Live Coding TOPLAP CD
Four years ago, in a smoky bar in Hamburg, Toplap was formed — an organisation dedicated to promoting live algorithm programming. So far, so niche. Defying expectation however, it has since exploded into a fully functioning electronic music scene, with hundreds of practitioners improvising with live coding languages such as SuperCollider and ChucK. That is, writing, rewriting and modifying music software on the fly during performance (often with the rapidly changing code projected on a screen).

The cream of this scene's live recorded output has now been collated on Toplap's inaugural release. Despite superficially geeky origins — many performers are coders first, musicians second — the music here is stacked with depth, guts and soul. Opener "Water Surface" by Ron Kuivila is a featherlight study, shimmering with static broken by bursts of bee-like feedback. In contrast, The Hub's "Hub x 6" is an
analogue-style fun fest of farty trumpet bursts and spaceship noise. RedFrik's ticklish "Aug 19" is Luke Vibert-style acid, but with enough rhythmic aberrations to take it beyond twee. "20060401folded" by scene forerunners Slub is a compelling, edgy slice of rollercoaster Techno. In truth, it's hard to believe much of the music here is essentially freewheeling software reined in by finger tapping humans. Live coding has so far flourished, but under a bushel. Perhaps it's time the rest of us got a look in.  Susanna Glaser
I think it's a nice bushel, I hope we can stay there a bit longer.